file corruption when copying from iso9660 with bad rrversion
Description
When opening certain ISO files with mc, I get an error pop-up on the first open, which can be dismissed: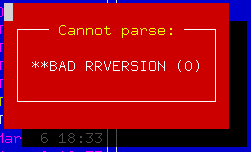 However, when copying individual files from such an ISO to another directory using [F5], mc will silently attach the same string ("**BAD RRVERSION (0)") to all copied files, making them 20 bytes larger than the source, and corrupting all file formats that expect their header at the end.

This looks related to #4326.

The only ISO I have seen this happen on yet is a proprietary driver CD from Samsung from 2014, to which I can share a link privately on request.

Tested on Debian-provided mc, mc -V:

GNU Midnight Commander 4.8.29
Built with GLib 2.74.5
Built with S-Lang 2.3.3 with terminfo database
Built with libssh2 1.10.0
With builtin Editor and Aspell support
With subshell support as default
With support for background operations
With mouse support on xterm and Linux console
With support for X11 events
With internationalization support
With multiple codepages support
With ext2fs attributes support
Virtual File Systems:
 cpiofs, tarfs, sfs, extfs, ext2undelfs, ftpfs, sftpfs, fish
Data types:
 char: 8; int: 32; long: 64; void *: 64; size_t: 64; off_t: 64;

mc --configure-options:

 '--build=x86_64-linux-gnu' '--prefix=/usr' '--includedir=${prefix}/include' '--mandir=${prefix}/share/man' '--infodir=${prefix}/share/info' '--sysconfdir=/etc' '--localstatedir=/var' '--disable-option-checking' '--libdir=${prefix}/lib/x86_64-linux-gnu' '--runstatedir=/run' '--disable-maintainer-mode' '--disable-dependency-tracking' 'AWK=awk' 'X11_WWW=x-www-browser' '--libexecdir=/usr/lib' '--with-x' '--with-screen=slang' '--disable-rpath' '--disable-static' '--disable-silent-rules' '--enable-aspell' '--enable-vfs-sftp' '--enable-vfs-undelfs' '--enable-tests' 'build_alias=x86_64-linux-gnu' 'CFLAGS=-g -O2 -ffile-prefix-map=/build/mc-3Uz4Lz/mc-4.8.29=. -fstack-protector-strong -Wformat -Werror=format-security' 'LDFLAGS=-Wl,-z,relro -Wl,-z,now -Wl,--as-needed' 'CPPFLAGS=-Wdate-time -D_FORTIFY_SOURCE=2'